The Emporer's New Clothes – Meaningful interactions in stressfull situations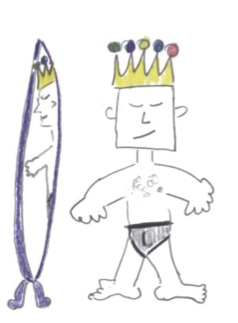 See the Emperor in all his glory! We all interact with different types of characters in our daily lives, very often in challenging (business) projects, which may lead to stressful situations. In order to master such situations, it's important for all of us to communicate consciously and effectively, especially at times of stress.
Doing the wrong thing or saying the wrong thing could result in failing our goal. Actually, when we do the wrong thing or say the wrong thing, this creates even more stress, which causes us to say even more the wrong things …
In this session we learn about congruence, the antidote to miscommunication and misunderstanding arising from stressful situations.
"The Emperor's new clothes" is an agile fairytale developed by Portia Tung. Fairytales are a great source of learning for kids since a long, long time ago. Agile fairytales are a playful way to understand aspects of applied theories for us.
Curious? Join us!
Our magic formula:
1 Fairytale + 1 Model + Applied Theory = Happy Ending.
This session takes place with special thanks to Portia Tung. I've learned this approach from her, when she hosted it for us – a bunch of senior consultants and change makers at Play4Agile this year. It was great fun and learning for all. More info here.
Session Host:
Karen SCHMIDT
Managing Director and Consultant at Becota -
The Berlin Consulting & Talent Association | Berlin
More info about Karen on LinkedIn
Impressions:
You can find more photos from the event in our Flickr gallery.
Venue:
Berlin School of of Economics and Law
Badensche Str. 50-51
Room B 1.01 (first floor, left stairway)
10825 Berlin